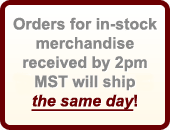 Minnetonka
Native Americans wore moccasins long before Columbus discovered the land. It's fair to say that moccasins are truly America's first footwear. Completely casual, they define a relaxed and comfortable lifestyle. It's a simple idea....Classic design that never grows old combined with a natural, free-spirited heritage. Minnetonka Moccasin continues to define casual and comfortable American style.



Featured Styles
Guaranteed Christmas Delivery
for all in-stock orders placed by 2pm MST December 17th.
Click for details.